Continuous Top Checks, Compatible with MYOB and More

Our industry-best continuous business checks handle ALL your expenses affordably! Multi-purpose top computer checks handle payroll & accounts payable with ease.
Size: 9 1/2 X 7
MYOB is a powerful software system for small business accounting. If you are currently using this program, Deluxe has continuous top checks which are compatible with MYOB and more recent accounting programs as well. This greatly facilitates your ability to generate accurate accounting while streamlining your time and costs. You'll never have a problem with check acceptance because Deluxe meets or exceeds federal banking standards regarding security.
All continuous top checks are compatible with MYOB as well as other brands of accounting software. Just log on to Deluxe.com and choose from several options; get checks in 1-part/original, 2-part/duplicate and 3-part/triplicate carbonless formats. The single tear-off voucher works for general uses as well as purchasing and payroll. You can buy packs of 250, 500, 1,000, 2,000 and 3,000 units.
Deluxe produces continuous top checks which are compatible with MYOB and accepted by banks everywhere. These checks are not only versatile, they are extremely affordable. It's you can choose the free personalization package when you place your order or upgrade to a second color, unique security enhanced design along with your own custom business logo.
Current discount:
50% off Checks, Deposit Tickets, Envelopes & Supplies Click here to activate discount >>
Voucher records all payroll & accounts payable details. Consecutive numbering available. Built-in check security trusted by 7,000 financial institutions nationwide, with features such as chemically sensitive paper, microprint border, invisible fluorescent
Item Number: DCT151
Product Number:
467809137
Full Size Image: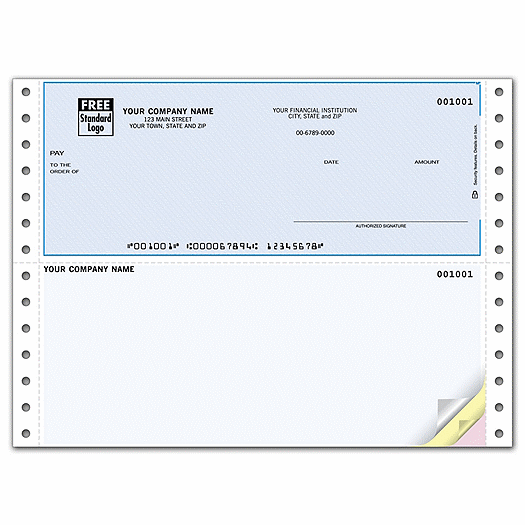 Click here for more information & pricing >>
Main Product Category: Checks & Banking